Teasim (Japanese Tea Culture), encapsulates the essence of Japan's unique culture, in the form of a mundane act, such as boiling water, and serving tea in a formal gathering.
Just as Religion has been the driving force for artistic and creative development around the world, Teaism over the past 500 years has influenced Japanese design, from Architecture to Product Design and Graphic Design, among other disciplines.
After practising tea and design for more than 15 years, a chance to explore new interpretations with our students, became possible, with the collaboration of Regine Ritz, of the Product Design department, for two consecutive years. We had around 20 students from both Product and Graphic design departments. Each had their unique design task that was meant to work within the Tea Room, to be built in Egypt. Their designs had to be inspired by Egypt's nature, and local material, while maintaining their original function to be used in a formal tea gathering.
Inviting the Adobe Architect Adel Fahmy, allowed around architecture students from the Architecture department, for a first of its kind collaboration between three departments, to work on one single project with an original approach.
Students had the chance to learn from traditional Japanese designs, with their unique philosophy and aesthetics, along from the traditional Egyptian eco-friendly Adobe Architecture, and see their potential in various contemporary applications, of which Experience Design is one of them.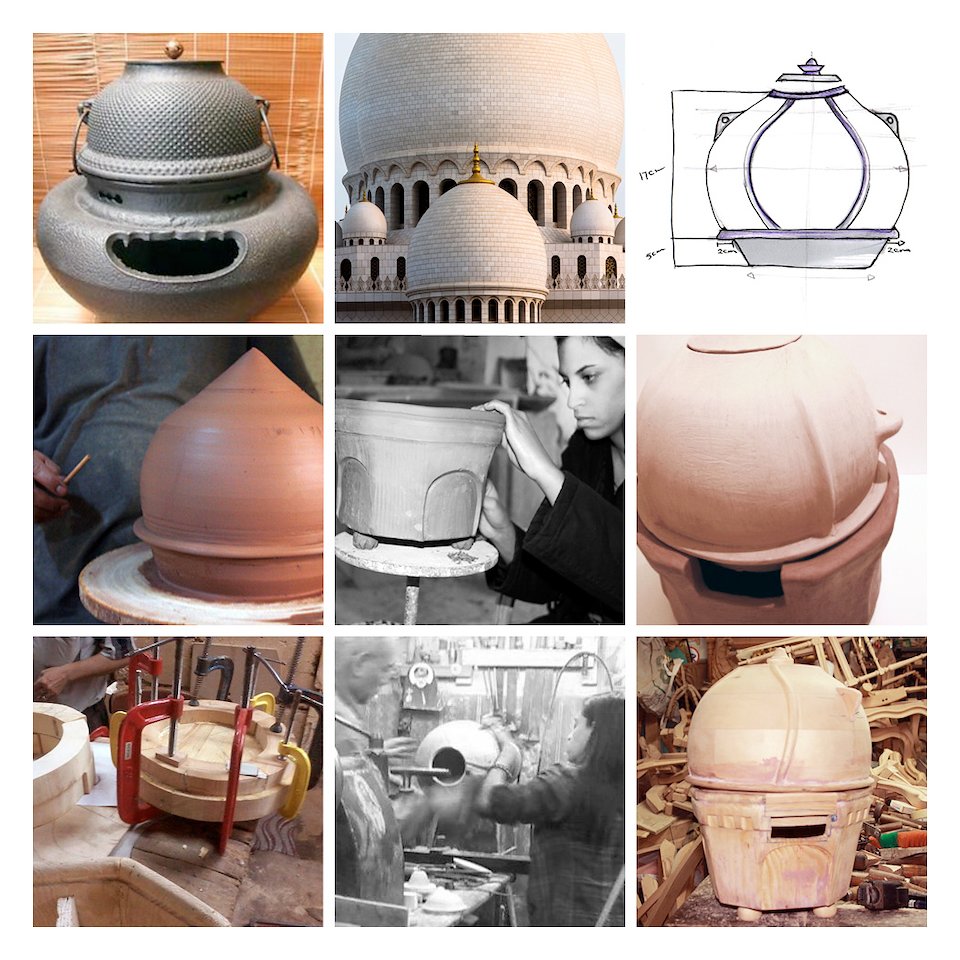 Topic: Japanese Tea Cast Iron Kettle and Brazier.
Design: Menna Ehab
Concept: Domes of Mosques.
Process: Sketching, Clay mould, Wooden mould..
Supervision: I was co-supervising with Regina Ritz the creative direction, functionality and some of the production phase with input from my tea teacher in Poland Mr. Aaron Bryson.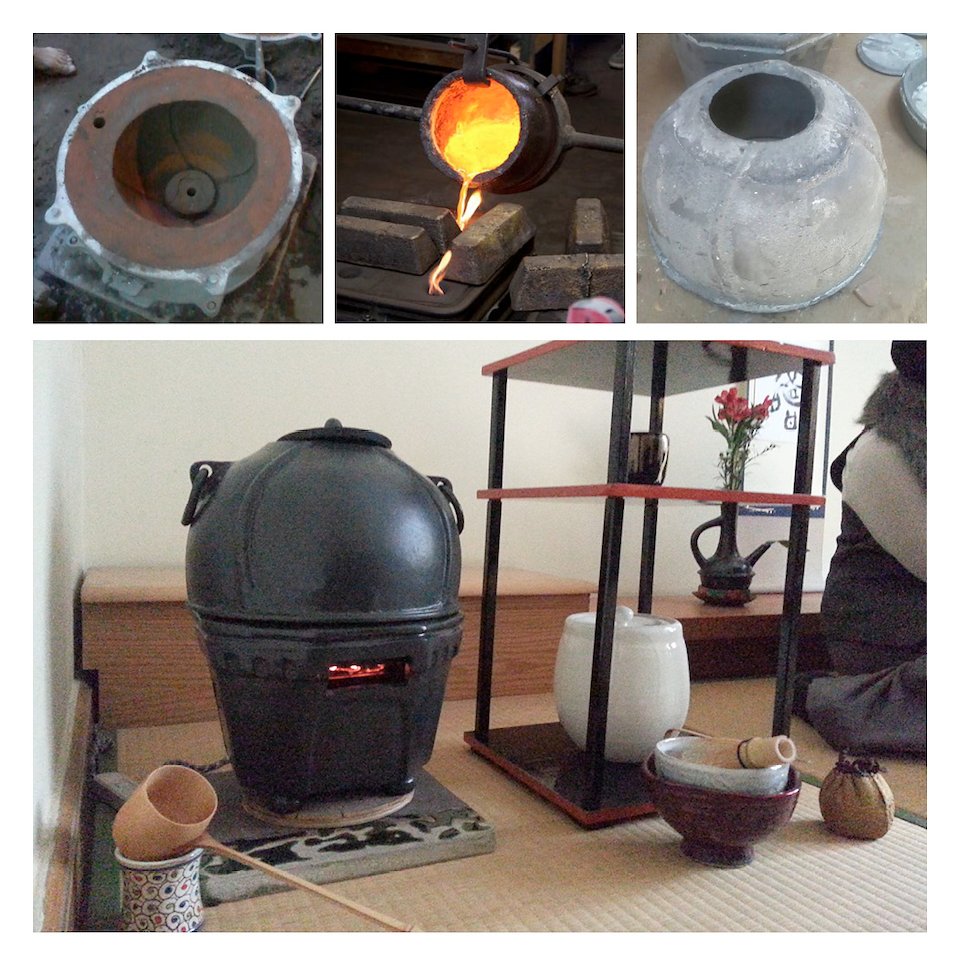 Process continued: Sand mould, casting iron, finishing the process and using it in a tea room to boil water.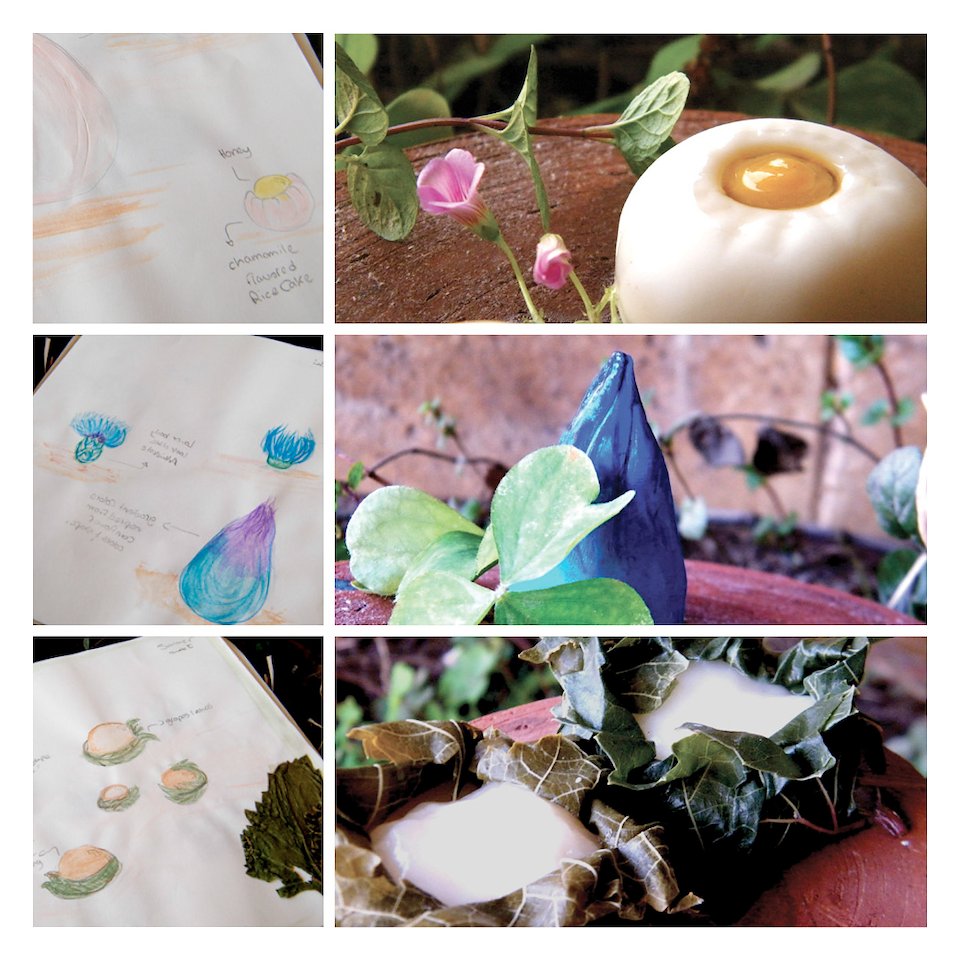 Topic: Sweets Design.
Design: Sara Khafage.
Concept: Seasonal Sweets inspired by Egyptian recipes, applied through Japanese experience design.
Object: Chamomile and Honey, Blue Lotus, and Stuffed Vine Leaves.
Supervision: I co-supervised with Regina Ritz the creative direction and production.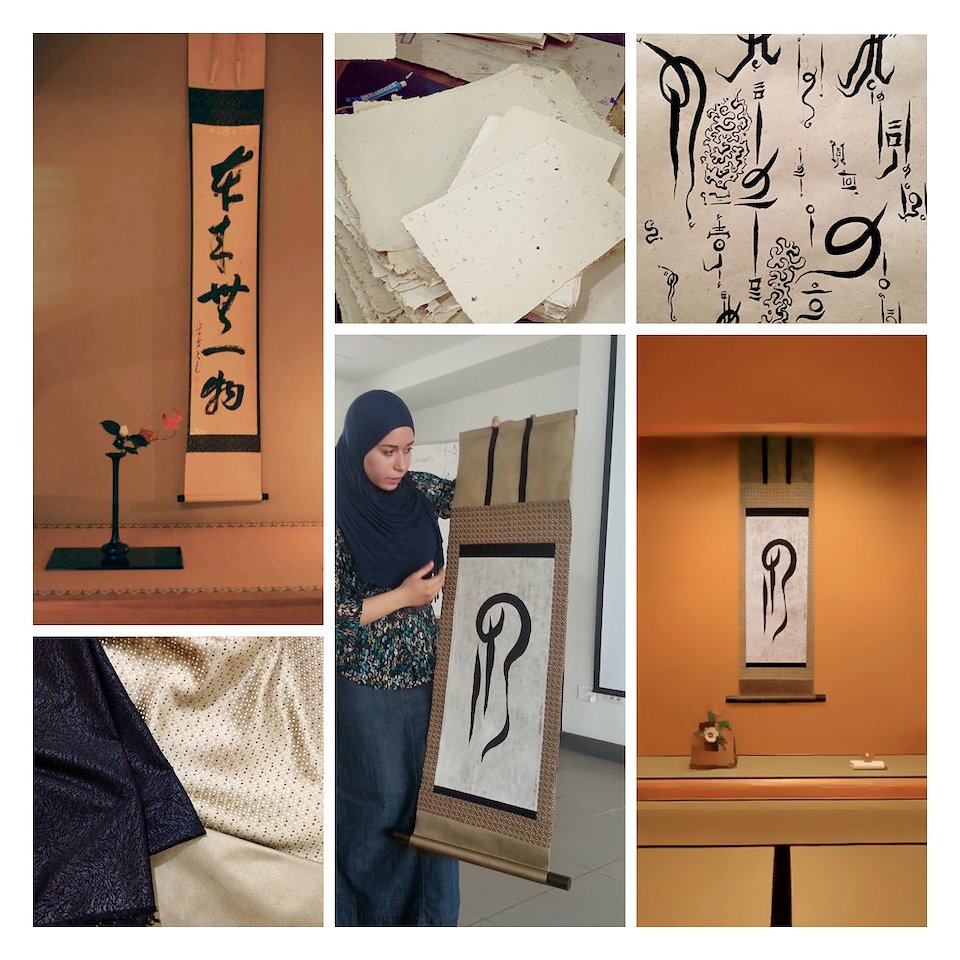 Topic: Arabic Calligraphy Artwork and Scroll Design.
Research & Design: Esra Abdel Moaty.
Concept: Japanese inspired calligraphy and scroll.
Process: Finding calligraphy material, sketching, finding scroll material, designing scroll, mounting artwork on hanging scroll.
Supervision: I supervised the concept, creative direction and production.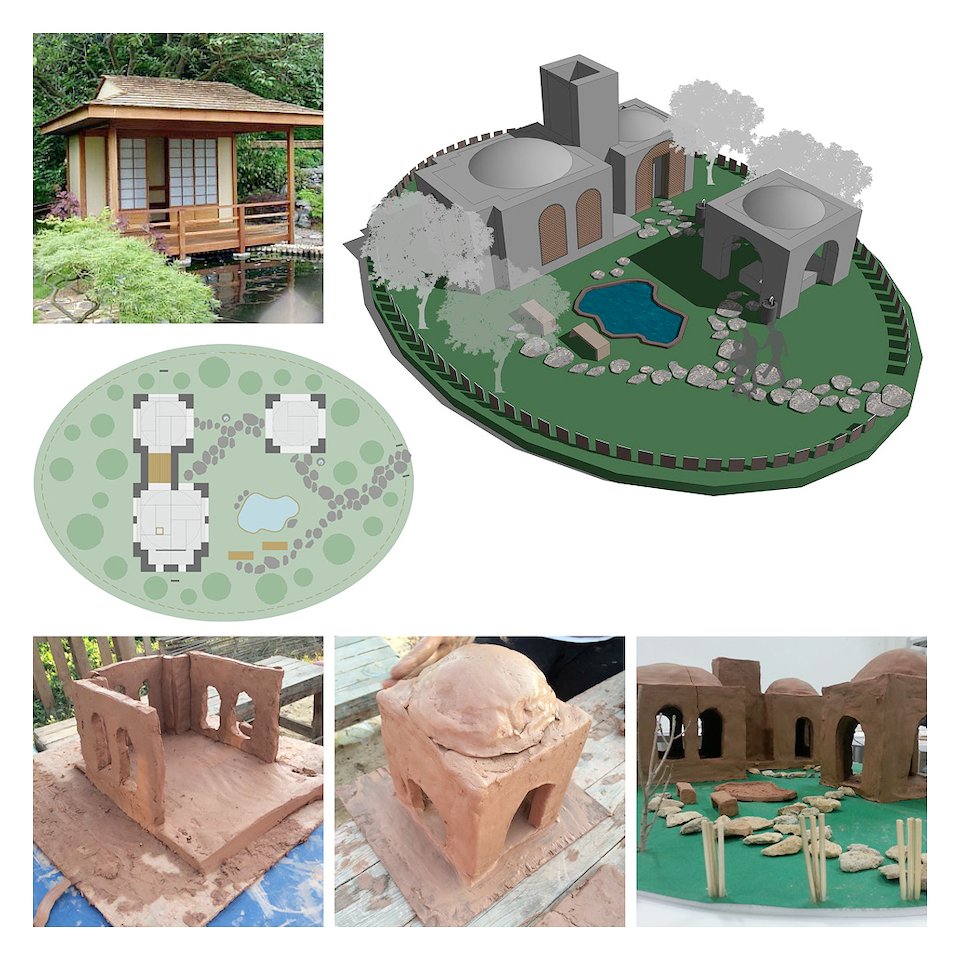 Topic: Tea Room and Garden.
Design: Ahmed Ghazy, Mohammed Arshed and Omar Bishr.
Concept: Adobe Architecture based on Egyptian villages.
Supervision: I assisted Architect Adel Fahmy, and co-taught some of the lectures.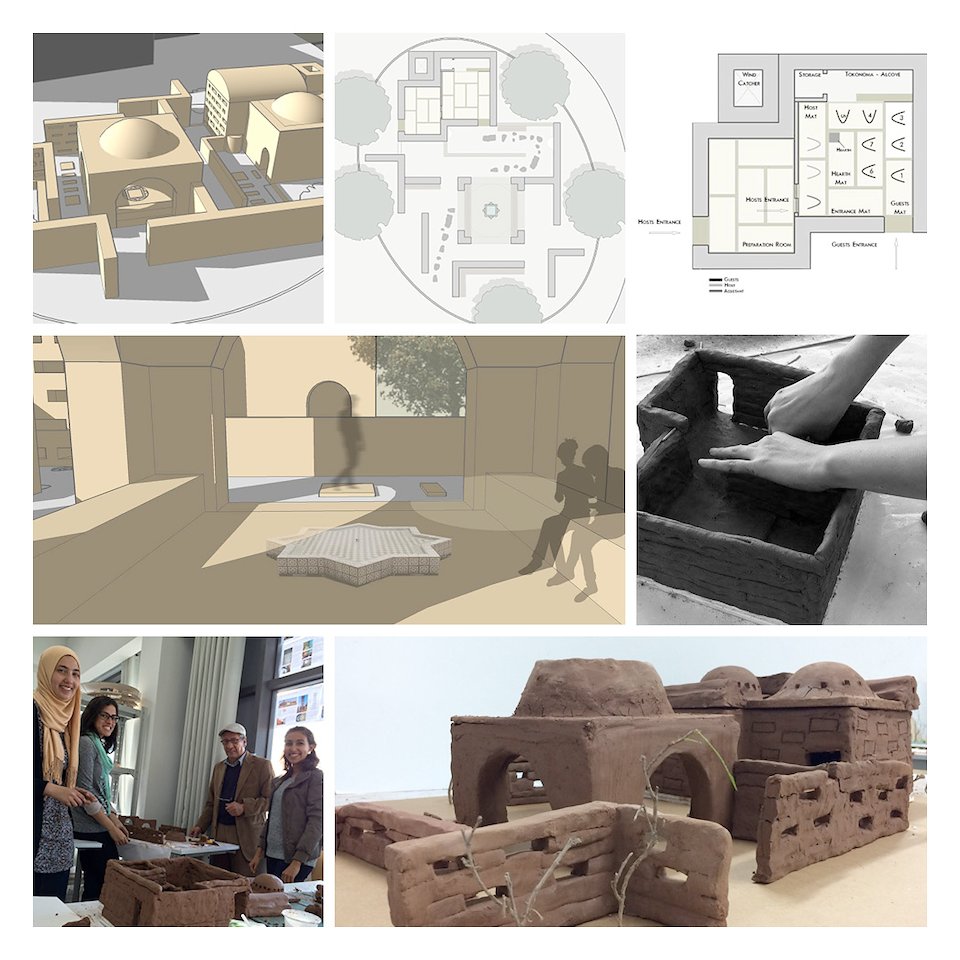 Topic: Tear Room and Garden.
Design: Mireille Ashamallah, Marwah Garib and Sandi Boulos.
Concept: Adobe Architecture, based on a maze grid.
n Egyptian villages.
Supervision: I assisted Architect Adel Fahmy, and co-taught some of the lectures.